Contact us
Add
: Benjia Ji, Northern Suburb of Hai'an County, Nantong City, Jiangsu Province, China
Tel
: +86-513-88755311
+86-513-88755027
Fax
: +86-513-88755315
E-mail
:
dcf@pengfei.com.cn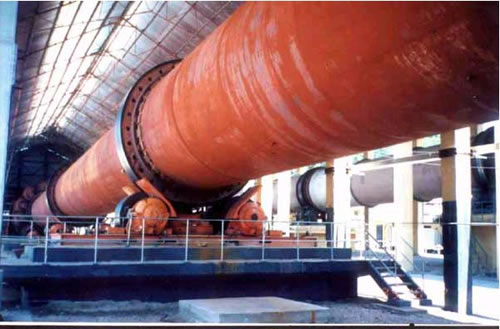 Titanium Dioxide Rotary Kiln
Working Principles:
The filtered titanium dioxide hydrolysate is sent to the tail of titanium dioxide rotary kiln with certain inclination. The combustion mixing chamber at the end of kiln head can send clean flame and hot air into the kiln body to dehydrate and calcine filter cake. After the hydrolyzed titanium dioxide filter cake has been hydrated at a temperature more than 1000℃, and calcined, under the help of titanium dioxide rotary kiln, it can roll along the circumferential direction as well as move along the axial direction from the high end to lower end until it finally finishes dehydration and calcination. Finally, the dehydrated and calcined titanium dioxide will be sent to a cooler through the double hydraulic discharge valve. The cooled and screened material is final titanium dioxide products.
Technical Parameters:
No.
Specification (m)
Drawing number
Basic specification
Main reducer
Main motor
Thrust roller type
Supporting bearing
Weight (t)
Rotating speed (r/min)
Slope (%)
Output (t/d)
Model
Power (kW)
Rotating (r/min)
1
Φ2.4×38
(T929)
0.2 ~0.6
2.2
30
ZS125
30
1470
Mechanical
Rolling
150
2
Φ2.8×53
J920
0.1 ~0.3
4
50
ZS145
22
1470
Mechanical
Rolling
271
3
Φ3.2×55
J931A
0.1 ~0.3
4
67
ZS165
55
1470
Hydraulic
Rolling
275.4
Note: Parameters in the form are only for reference, and specific ones need referring to particular contract.
Related products