Contact us
Add
: Benjia Ji, Northern Suburb of Hai'an County, Nantong City, Jiangsu Province, China
Tel
: +86-513-88755311
+86-513-88755027
Fax
: +86-513-88755315
E-mail
:
dcf@pengfei.com.cn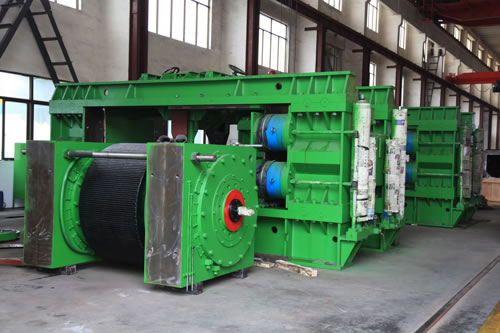 Rolling Machine
Description of Rolling Machine:
Our rolling machine is a kind of new-type cement grinding equipment developed on the basis of advanced technology, and its grinding system has integrated the rolling, scattering, separating, drying and powder separating into one body. Besides, when used together with a ball mill, it can be used in various process flows, like pre-grinding, mixing, semi-finished grinding, finished grinding, and more.
Due to the change in its grinding principles, this rolling machine and its grinding system have more advantages, like 50-100% lower power consumption, and 100-300% higher productivity.
Features of Rolling Machine:
1. Heat overlaying weld has been employed to make the maintenance of wear-resisting layer more convenient. Meanwhile, the amount of microcracks is largely reduced, and the service life of roller surfaces is no less than 8000h. It is quite easy to maintain the roller surfaces.
2. Aeronautic hydraulic technique is used to make the hydraulic system more reliable and stable.
3. With the cooperation of its hydraulic system and automatic control system, it can do the work of load control of main driving motor, deviation control of space between rollers, automatic deviation adjustment, and fault diagnosis.
4. Its matched powder separator has scattering, grading and drying capacity, which makes low operation costs and high working efficiency possible.
PFG120-45 Rolling Machine
Parameters of PFG120-45 Rolling Machine:
1. Name: PFG120-45 Rolling Machine
2. Material name: raw meal of cement, clinker and so on.
3. Total moisture content: ≤1-1.5%
4. Maximum feeding size: ≤70mm
5. Average feeding size: ≤25mm
6. Discharge size: more than 25% of processed materials are 0.08mm.
7. Productivity: 100-140t/h
8. Operation mode: continuous
9. Power supply mode: voltage: 380V; motor model: Y355L-8
10. Layout mode: 2×220KW power for indoor motor
11. Roller diameter: 1200mm
12. Roller width: 450mm
13. Linear velocity: 1.48m/s
14. Max. crushing capacity of rollers: 70KN/cm
PFG140-80 Rolling Machine:
Equipment name
PFG 140-80 rolling machine and matched V type powder separator(or scattering machine)
Unit
set
2
I. Basic Parameters of Subsets
1. Rolling machine
Specification
Roller diameter
mm
Φ1400
Roller length
mm
800
Passing capacity
≥t/h
300-350
Rotating speed of rotor
r/min
20.2
Linear speed of rollers
m/s
1.48
Working roll gap range
mm
25~40
Feeding size
mm
≤45mm(≥95%)
Discharging size
mm
≤2mm/0.09mm(65%/20%)
Moisture content of material
%
≤1%
2. V type powder separator
Model
PF3000
Air passing volume
M³/h
180000~210000
Air speed between guiding plates
m/s
6.8
Resistance force
Pa
1000~1500
Ⅱ. Main Components
1. Rolling machine
1.1. Main motor
Set
2
Model
YRKK560-8
Power
kW
2×560
Voltage
kV
10
Rated rotating speed
r/min
750
Operation frequency
Hz
Protection level
IP44
Weight
kg
5560
1.2. Main Speed reducer
set
2
Model
XG48-36.5
Max. transmitting power
kW
500
Nominal speed ratio
36.5
Actual speed ratio
Weight
kg
5000
2. Matched oil station model
XYZ-100G
Cooling water volume
m3/h
9
Power
kW
4
Power of electric heater
KW
24
Voltage
V
220(380)
2.1. Main bearing
4
Model
Bearing 232/600CAK/W33
Weight
kg
1620
2.1.1 thermo indicator of bearing
4
Model
WEPM-201
Graduation number
PT100
Temperature measuring range
℃
0~100
2.1.2. Grease centralized lubricating system
Pump model
ZB2-M16F multipoint lubrication pump
Power
kW
0.25
Voltage
V
380
Nominal pressure
MPa
20
Amount of lubricating point
14
2.1.3. Hydraulic system
Motor model
Y160L-4
Power
kW
15
Voltage
V
380
Diameter of master hydro-cylinder
mm
¢400
Amount of master hydro-cylinder
4
Normal operation pressure
MPa
16
Max. operation pressure
MPa
20
Oil cylinder stroke
mm
90
2.1.4. Rollers
2
Parent material
35CrMo
Weight
kg
14129
Hardfacing layer thickness of rollers
mm
20
Hardfacing layer hardness of roller
HRC50
Wear-resisting pattern shape of rollers
Straight patterns
First maintenance-free lifespan of rollers
h
≥8000
2.1.5. Bearing supports
4
Material
ZG270-500
Weight
kg
3620
2.1.6. Rack
Material
Q235-A
Weight
kg
23218
2.1.7. Feeding apparatus
Model of driving device to adjust valve plate
Manual screw adjustment
Lining plate material
Wear resistant
Working lifespan
3000h
2.1.8. Electrical control system
2.2. Weighing bin
Volume
t
Weight
kg
2.3. "V" Type Powder Separator
2.4. Cyclone environmental protection equipment
PFG150-100 Rolling Machine:
Technical Parameters of PFG150-100 Rolling Machine:
1. Name: PFG150-100 rolling machine
2. Application: clinker crushing
3. Amount: 1 set
4. Material: clinker
5. Total moisture content: ≤1~1.5%
6. Max.feeding size: 80mm
7. Discharging size: more than 60% of products are less than 2mm.
8. Production capacity: 483~543t/h
9. Working mode: continuous
10. Power supply mode: voltage 6KV
11. Layout mode: indoor
12. Required power: 2×710 kW
13. Diameter of roller: 1500mm
14. Width of roller: 1000mm
15. Rotating speed of roller: 19.7 r/min
PFG160-140 Rolling Machine:
Technical Parameters of PFG160-140 Rolling Machine:
1. Name: PFG160-140 rolling machine
2. Application: clinker crushing
3. Amount: 1 set
4. Material: clinker
5. Total moisture content: ≤1-1.5%
6. Max.feeding size: Dmax≤60mm
7. Average feeding size: D≤25mm
8. Discharging size: 22%~30% is 0.08mm.
9. Productivity: 600-720t/h
10. Working mode: continuous
11. Power supply mode: voltage: 10KV; motor model: YR5603-4
12. Layout mode: indoor motor power: 2×1120KW
13. Diameter of roller: 1600mm
14. Width of roller: 1400mm
15. Linear velocity: 1.47m/s
16. Max. crushing capacity: 70KN/cm2
17. V type powder separator: V-XY6817
Related products