Contact us
Add
: Benjia Ji, Northern Suburb of Hai'an County, Nantong City, Jiangsu Province, China
Tel
: +86-513-88755311
+86-513-88755027
Fax
: +86-513-88755315
E-mail
:
dcf@pengfei.com.cn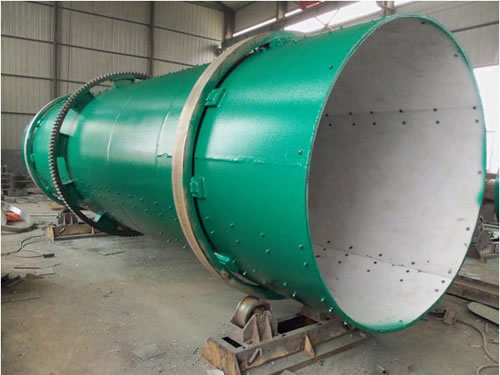 Rotary Drum Granulator
Description of TQT Series Rotary Drum Granulator:
Our TQT rotary drum granulator is an essential machine for compound fertilizer production. Its granulation ratio is as much as 70%, and its granulated products have strength more than 10N. Besides, its products have even nutrients, and strong adaptability. It can also be used in the production line of compound fertilizers used to supplement water for soils.




Parameters of TQT Series Rotary Drum Granulator:
| | | | | | | |
| --- | --- | --- | --- | --- | --- | --- |
| Model | Output | Rotating speed | Motor type | Model of speed reducer | Speed ratio | Total weight |
| Ф1.2×3.5M | 1.5-6 | 18 | Y160M-6/7.5KW | JZQ350 | 8.23 | 6 |
| Ф1.4×4.0M | 2.5-10 | 15 | Y160L-6/11KW | JZQ350 | 8.23 | 8 |
| Ф1.6×4.0M | 3-12 | 12 | Y160L-6/11KW | JZQ350 | 8.23 | 11.5 |
| Ф1.6×6.0M | 3.5-14 | 12 | Y160L-6/11KW | JZQ350 | 12.5 | 14 |
| Ф1.8×6.0M | 4-16 | 11.5 | Y180L-6/15KW | JZQ450 | 8.23 | 17 |
| Ф1.8×8.0M | 5-18 | 11.5 | Y200L-6/18.5KW | ZL60-12 | 12 | 19.8 |
| Ф2.0×7.0M | 14 | 8.8 | Y180L-4/22KW | ZL60-12 | 12 | 21.5 |
| Ф2.0×8.0M | 8-30 | 8.8 | Y180L-4/22KW | ZL60-12 | 12 | 24.8 |
| Ф2.2×6.0M | 12-40 | 8.6 | Y180L-8/22KW | ZL60-12 | 12 | 26.5 |
| Ф2.2×8.0M | 10-35 | 8.6 | Y225M-6/30KW | ZL75-14 | 14 | 25.6 |
| Ф2.4×10M | 15-24 | 8.2 | Y225M-6/30KW | ZL60-14 | 14 | 34.9 |
| Ф2.4×8.0M | 12-40 | 8.6 | Y225M-6/30KW | ZL80-14 | 14 | 34 |
| Ф2.6×12M | 30 | 10.5 | Y280M-6/55KW | ZL85-14 | 14 | 51.6 |
| Ф2.6×10M | 20-55 | 10.5 | Y280S-6/45KW | ZL85-14 | 14 | 48.5 |
| Ф2.8×12M | 32 | 10.5 | Y280S-6/75KW | ZLY224-14 | 14 | 66.5 |
| Ф3.0×8M | 22-60 | 10.5 | Y315S-6/75KW | ZLY224-14 | 14 | 62.000 |
| Ф3.0×12M | 25-65 | 10.5 | Y315L-6/90KW | ZLY250-14 | 14 | 86.500 |
| Ф3.2×10M | 28-70 | 10.5 | Y315L-6/90KW | ZLY250-14 | 14 | 96.800 |
| Ф3.2×14M | 26-85 | 10.5 | Y315L-6/110KW | ZLY280-14 | 14 | 95.000 |
Related products