Contact us
Add
: Benjia Ji, Northern Suburb of Hai'an County, Nantong City, Jiangsu Province, China
Tel
: +86-513-88755311
+86-513-88755027
Fax
: +86-513-88755315
E-mail
:
dcf@pengfei.com.cn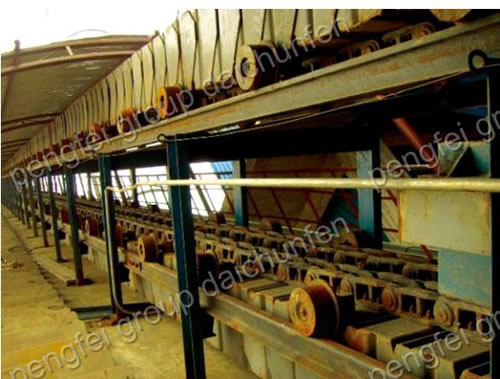 Chain Bucket Conveyor
Description of SOB Series Chain Bucket Conveyor:
Our SOB series chain bucker conveyor is mainly used to convey lump and granule materials that are sharp, abrasion resistant and heat resistant. It can bear high temperature as high as 250℃.
It mainly consist of driving device, upper track, lower track, upper guardrail, lower guardrail, holder, tail equipment and operating part.
During the cement production process, cooled clinker from rotary kiln will be sent to the clinker warehouses for storage so that production disequilibrium and influences caused by temperature, components, or other changes can be avoided. The cement clinker is highly corrosive and, even after cooled, its temperature maybe still keep high. So the transport of cement clinker has to employ chain bucket conveyor.
Inclination angle of this conveyor is usually less than 60°, and the more economic one is 45°.
Related products