Contact us
Add
: Benjia Ji, Northern Suburb of Hai'an County, Nantong City, Jiangsu Province, China
Tel
: +86-513-88755311
+86-513-88755027
Fax
: +86-513-88755315
E-mail
:
dcf@pengfei.com.cn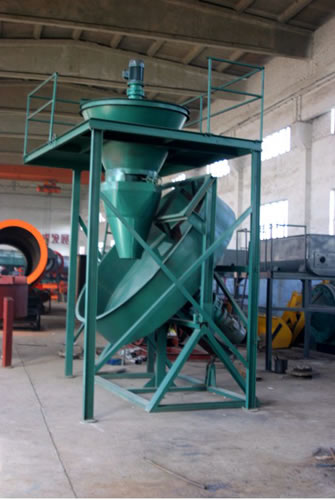 Disc Granulator
Description of QPY Disc Granulator:
Our QPY disc granulator is typically designed to process compound fertilizers into specific shapes, and granules processed by this machine are in the same size. It has advantages of simple structure, energy saving, less quick-wear components, easy repair and maintenance, reliable performance, and more.
Mounted on a frame with a certain inclination angle, the round disc is driven by the transmission device to rotate, and the rotary scrapper over the round disc can not only rapidly process the fertilizers into specific shapes, but also clean up particles at the bottom of the disc.
The adjustment of particle sizes can be achieved only by adjusting the height of the round disc rims.
Parameters of QPY Disc Granulator:
| | | | | | | | |
| --- | --- | --- | --- | --- | --- | --- | --- |
| Specification | Productivity (t/h) | Motor model | Power (kw) | Model of speed reducer | Inclination angle of disc | Rotate speed of disc (r/min) | Weight (kg) |
| QPY2200 | 3-5 | Y132M-4 | 7.5 | JZQ400 | 45-55° | 13.3 | 2850 |
| QPY2500 | 4-6 | Y132M-4 | 7.5 | JZQ400 | 45-55° | 13.3 | 3250 |
| QPY2800 | 5-8 | Y132M-4 | 7.5 | JZQ450 | 45-55° | 13.3 | 3710 |
| QPY3000 | 8-12 | Y160M-4 | 11 | JZQ500 | 45-55° | 11.3 | 4350 |
| QPY3200 | 10-15 | Y160M-4 | 11 | JZQ500 | 45-55° | 11.3 | 5110 |
| QPY3600 | 15-25 | Y160M-4 | 15 | JZQ600 | 45-55° | 10.0 | 6510 |
| QPY4200 | 20-30 | Y180M-4 | 18.5 | JZQ600 | 45-55° | 10.0 | 9050 |
| QPY4500 | 25-40 | Y180M-4 | 22 | JZQ750 | 45-55° | 9.6 | 16700 |
Related products