Contact us
Add
: Benjia Ji, Northern Suburb of Hai'an County, Nantong City, Jiangsu Province, China
Tel
: +86-513-88755311
+86-513-88755027
Fax
: +86-513-88755315
E-mail
:
dcf@pengfei.com.cn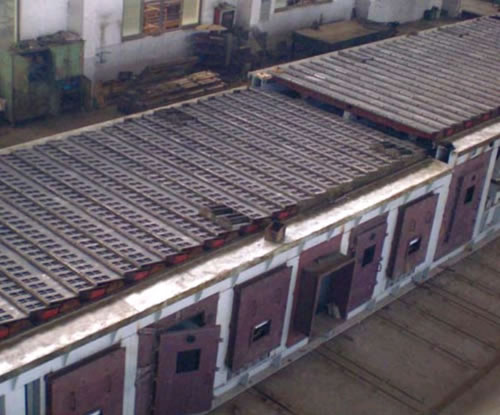 Horizontal Grate Cooler
Description of Horizontal Grate Cooler:
Our HCFC horizontal grate cooler is a kind of new energy-saving machinery for clinker, and the internationally advanced flow control technology has been employed in this machine. Based on the advanced thermal process, it has been improved greatly, and when compared with other grate coolers, its productivity is 20% higher and its heat consumption more than 10% lower.
Features of Horizontal Grate Cooler:
1. Its productivity ranges from 600 to 10000t/d.
2. Its heat efficiency is more than 72%.
3. Feeding material temperature is about 1370℃.
4. Discharging material temperature is 65℃ plus the ambient temperature.
5. Discharging clinker size is less than 25mm.
6. Equipment operation rate is more than 98%.
7. Unique KIDS system and pulsation air supply system have been designed for the feeding end.
8. Optimized grate bed is used to provide air and it can accurately control the air consumption in each cooling part so that high-efficiency cooling effects can be achieved. In this way, high heat recovery efficiency can be obtained.
9. Its new high-efficiency grate plate structure has employed alloy cast steel that is high strength, heat resistance, oxidation resisting and antiwear, and it has undertaken special treatment. As a result of that, this plate has good resistance and high airflow penetrability. Different parts have employed different types of grate plates.
10. The swing compensator of this horizontal grate cooler has used special hi-tech coating technology to prolong its work life, and the air beam is connected to the air tube through the swing compensator, which is quite helpful to movement of grate bed in the three-dimensional space.
11. Special external supporting roller and guiding device have been used, and rollers, which are able to support the grate bed, are also employed. These rollers have high surface hardness and good antiwear capability.
12. High-quality grate bars, used in the front discharge outlet, has special section form, good antiwear capacity, reliable performance, easy replacement and long service life, and these bars can be replaced individually.
13. The gear teeth of its clinker zipper machine, with special tooth shape and high quality materials, feature stable operation, less wear, long service life, and easy replacement. New chain link and materials have been used, and this link is of precision casting, high interchangeability, and stable and reliable operation.
14. The clinker crusher has employed a 360° rotary hammerhead, thus avoiding the conditions of kiln stop caused by the blocking of big materials.
15. New structural lining plate has been used to solve the abrasion problems due to long-term running.
16. The material sealing valve of this horizontal grate cooler has reliable and secure operation and long service life.
17. Its modular design can help to reduce installation costs as well as improve the installation speed. And with a compact structure, it occupies rather small space.
18. Perfect monitoring and regulation technology, like three-way control system and alarm systems of temperature, ensures this horizontal grate cooler high-efficiency, reliable performance and stable operation.
Specifications of Horizontal Grate Cooler:
| | | | | | |
| --- | --- | --- | --- | --- | --- |
| Type | Output (t/d) | Effective area of grate bed (m2) | Output per unit area(t/.d) | Drive mode | Segment |
| HCFC-1000 | 1000~1100 | 27.7 | 39.7 | Mechanical | 2 |
| HCFC-1200 | 1200~1300 | 30.5 | 42 6 | Mechanical | 2 |
| HCFC-1500 | 1500~1600 | 36.1 | 44.3 | Mechanical | 2 |
| HCFC-2000 | 2000-2100 | 46.6 | 45 | Mechanical | 2 |
| HCFC-2500 | 2500-2600 | 64.8 | 40.1 | Hydraulic & machanical | 2 |
| HCFC-3000 | 3000-3200 | 75.a | 42.2 | Hydraulic & mechanical | 2 |
| HCFC-3500 | 3500-3700 | 87.8 | 42.1 | Hydraulic & mechanical | 2 |
| HCFC-4500 | 4000-4500 | 107 5 | 41 9 | Hydraulic | 2 |
| HCFC-5500 | 5000-5500 | 131.8 | 41.7 | Hydraulic | 3 |
| HCFC-6500 | 6000-6500 | 154.6 | 42 | Hydraulic | 3 |
Related products