Contact us
Add
: Benjia Ji, Northern Suburb of Hai'an County, Nantong City, Jiangsu Province, China
Tel
: +86-513-88755311
+86-513-88755027
Fax
: +86-513-88755315
E-mail
:
dcf@pengfei.com.cn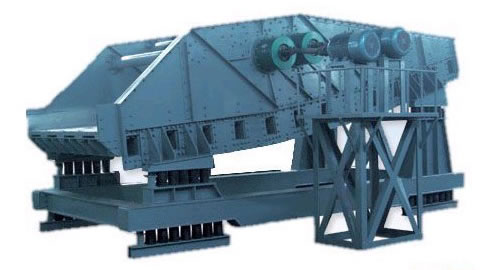 Fertilizer Vibrating Screen
Description of Fertilizer Vibrating Screen:
Our fertilizer vibrating screen is mainly used in screening and separating of semi-finished and finished compound fertilizer. And it is mainly comprised of vibrating motor, screen box, damping spring, supporting seat, etc. Its screen can be divided into single-deck screen and double-deck screen, and users can decide their screen type according to their technological requirements.




Technical Parameters of ZD Series Fertilizer Vibrating Screen:
Model
Output (t/h)
Screen area
Slope of screen
Working amplitude
(mm)
Vibrating motor
Weight (kg)
Model
Power
ZD1025
4-6
2.5
20°
2.8-3.4
ZDS-2.5-6
2×0.75
1180
ZD1025
4-8
3.0
20°
3.7-4.7
ZDS-2.5-6
2×0.75
1380
ZD1030
5-10
3.6
20°
3.7-4.7
ZDS-2.5-6
2×0.75
1560
ZD1230
6-12
4.2
20°
3.7-4.7
ZDS-2.5-6
2×1.1
1800
ZD1340
8-16
5.0
20°
3.7-4.7
ZDS-2.5-6
2×1.5
2500
ZD1435
10-20
5.2
20°
3.7-4.7
ZDS-2.5-6
2×2.2
3200
ZD1440
10-25
6.0
20°
3.7-4.7
ZDS-2.5-6
2×2.2
3500
ZD1554
15-25
6.8
20°
3.7-4.7
ZDS-2.5-6
2×3.0
3900
ZD1550
15-30
7.2
20°
3.7-4.7
ZDS-2.5-6
2×3.0
4180
Related products